Is it necessary to read the fairy tales, if there is an easy solution, and we can turn on the TV? Many adults choose this option, not realizing how much damage to the emotional and moral development of the child this form does.
Many times we meet with the idea that stories that out parents and grandparents knew are full of violence and cruelty. But we do not think about the TV fairytale so much. We consider violence as a common part and rely on the creators of the movie that storyline eventually explains everything. Finally, as in the fairy tale, good wins over evil.
Tales are in any case a training ground where children learn how to handle evil and violence. The big difference, however, is between a watched and heard story. The difference is how the child is familiarized with the phenomenon of evil in these two forms of reproduction.
When listening to a fairy tale, it is particularly important that the phenomena of evil and violence, which is in its open form frightening, is covered with symbols. Children know that fairies really do not exist and non-image form gives them the opportunity to imagine these characters in a way that is manageable for them and not so scary. The presence of an adult gives the child confidence that nothing bad can happen. Moments spent together with talking or reading provides the opportunity to talk with children about the story. Talk about their fears, but also about what they enjoy. About people who remind them of the negative and positive characters, how they can communicate with someone so they will not be hurt.
Movie fairy tale does not provide this option. Today, when classic fairy tales disappeared and evil characters handle almost real weapons, the violence has shifted from symbolic level to the real world. Tale has lost the protective cloak of symbols. Evil attacks child directly and, sitting in front of the TV screen, he/she is not able to cope with this dose of violence. The first result is an indifference to evil - the body defends itself against a strong incentive in a way that it will get rid of any emotion. The second consequence is the loss of ability to fight against injustices and terror (the highest form of violence) and excessive jittery because evil monster gets a form that can not be beaten.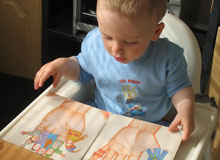 Children deprived of reading stories lose other important benefits. Listening to tales supports their ability to listen and concentrate. Teaching at all levels of the school system is based on the interpretation of the phrase. It is necessary to concentrate and find the context.
Human communication is based on the fact that we perceive and understand the other person, we can empathize with his emotions. Reading lays the foundation of later literacy.
Children who hear tales from a young age and are surrounded by books reach for a book more naturally in an age when they can read.